Voyager
I attended an EB (Eye Ball) last night. It was a casual meeting of members of airfagev - a website for Pinoy SmartPhone owners and enthusiasts (
www.airfagev.com
).
One of the members is connected with Smart Communications.
Itago nalang natin siya sa pangalang GARY
. Gary brought along a Voyager, the latest model of SmartPhones by HTC (High Tech Company).
All of us present mulled over the Voyager of Gary. There were many of us so we took turns tinkering with the phone. It was fresh from the box. It still had the plastic strip protecting the IR Port like a new car with plastic cover on the seats and doors.
There wasn't much time for an in-depth review. Thus, I can only offer first impressions gathered from the airfagev members present at the EB.
Here's what we observed: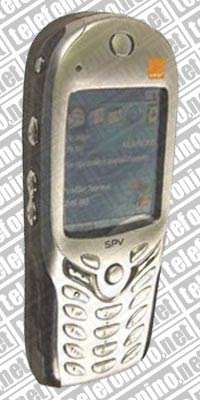 * Almost exactly same size as the Tanager
* The camera has a mirror below it. Want to take a self-portrait? Easy! Just position the phone such that you see yourself in the mirror.
* Flatter joystick and softkeys. The dimple around the joystick isn't as deep as the Tanager's.
* Camera is notably faster. I was able to take a series of 3 shots in arnd 6-8 seconds.
* It had a "dim" setting similar to "night light" thus allowing us to take photos in a not-well-lit resto.
* Other camera functions: 4x digital zoom, up to 640x480 pixel size, resolution setting of "super fine" down to ... uh ..."not so fine"(?), change filename prefix (instead of default "IMAGE" prefix), photo playback immediately after shooting, etc.
* Video camera in AVI file format
* MMS inbox is separate from SMS and email inbox
* SmartExplorer is built-in in the Smart ROM
* SIM-Unlocking requires a security key from
HTC
! Maybe there's no way to network unlock the Voyager ...
yet
. Paging mar...
* It runs Smartphone 2003
Hyon. Thanks to DR, Omay, Jhynxz, Cristeta, zugzwang for their insights, some of which are integrated in the above overview. Naubusan na ako ng kwento. Hope u get the chance to butingting the Voyager too!
Read
"My Thoughts Re: The Voyager!"
written by pong at the airfagev website [
www.airfagev.com
].
Chairs!
- edwin
11 Hulyo, 12:36 AM
Typed and emailed via Brosia, my SmartPhone